Counseling & Therapy – Santa Cruz, CA
We all need respect, compassionate understanding, and faith in our inherent goodness. From this nurturing foundation we can create satisfying relationships and a meaningful life.
People seek counseling for many different reasons. Some want therapy to improve their relationships. Others want therapy for relief from anxiety, depression, anger, stress or grief. Some seek counseling because they are confused or troubled by transitions in their lives. Some want counseling to help them be free of addictions or unhealthy habits. And some want therapy to heal from painful experiences in their past.
Counseling can empower you to make the changes you seek. Therapy can also help you learn to accept yourself more fully. There does not have to be something "wrong" with you for you to benefit from self-reflection under the guidance of an experienced therapist.
This website is a resource for learning how therapy works and how to choose a therapist. Many different orientations to counseling are described to help you identify which approach might work best for you or someone in your family. Explore the links to the left. Then let me know if I might be able to help.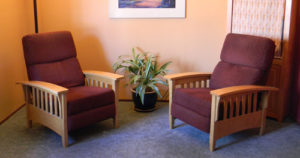 My therapy office is in downtown Santa Cruz at 735 Chestnut Street, Suite "C."
Please call 831-222-0111 or email to make an appointment.
I welcome counseling clients from Santa Cruz, Scotts Valley, Capitola, Soquel, Aptos, Watsonville, Felton, Boulder Creek, Los Gatos and all of Santa Cruz County. Nearby zipcode areas include 95060, 95062, 95010, 95073, 95076, 95003, 95065, 95005, 95019, 95066, 95018, 95005 95006 95017 95018 95033